Where is Istanbul City Center
November 17, 2023
0 Comments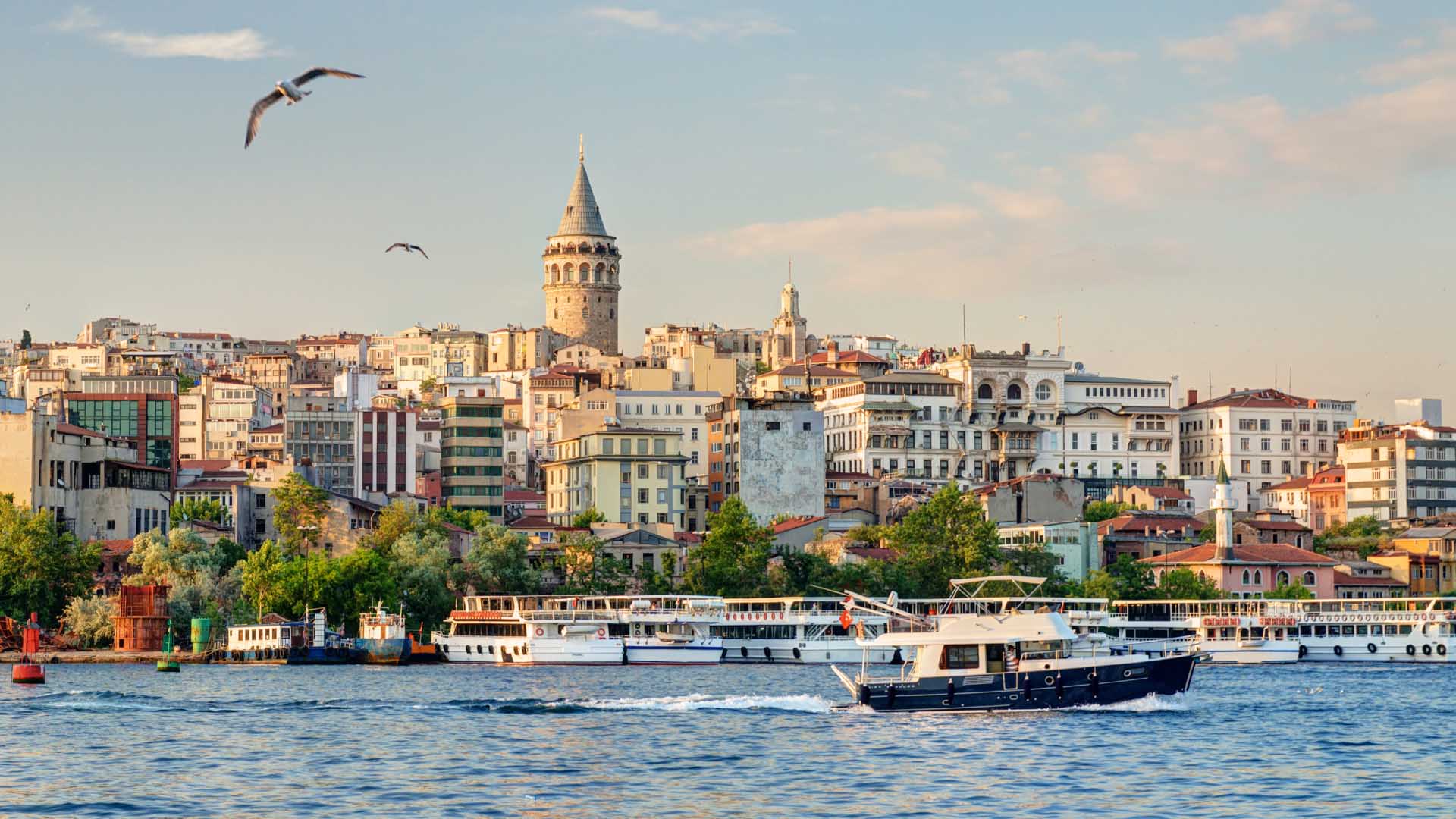 Istanbul has many faces, including all levels of society, interests, culture, entertainment and traditions. Throughout history, many kingdoms have fought for strategic control. Fortunately, the city is quiet these days and is a center for shopping, tourism, business and nightlife. Istanbul is the center of the city where everything is happening and each area has a special theme. Property buyers looking for Istanbul city center will also be interested in the options on offer. Istanbul is a large and diverse city. But the central area of ​​the city that is the most talked about by tourists is the Sultanahmet district, where shopping and nightlife is the new part of Beyoglu downtown. Let's take a look at the areas that are important to know.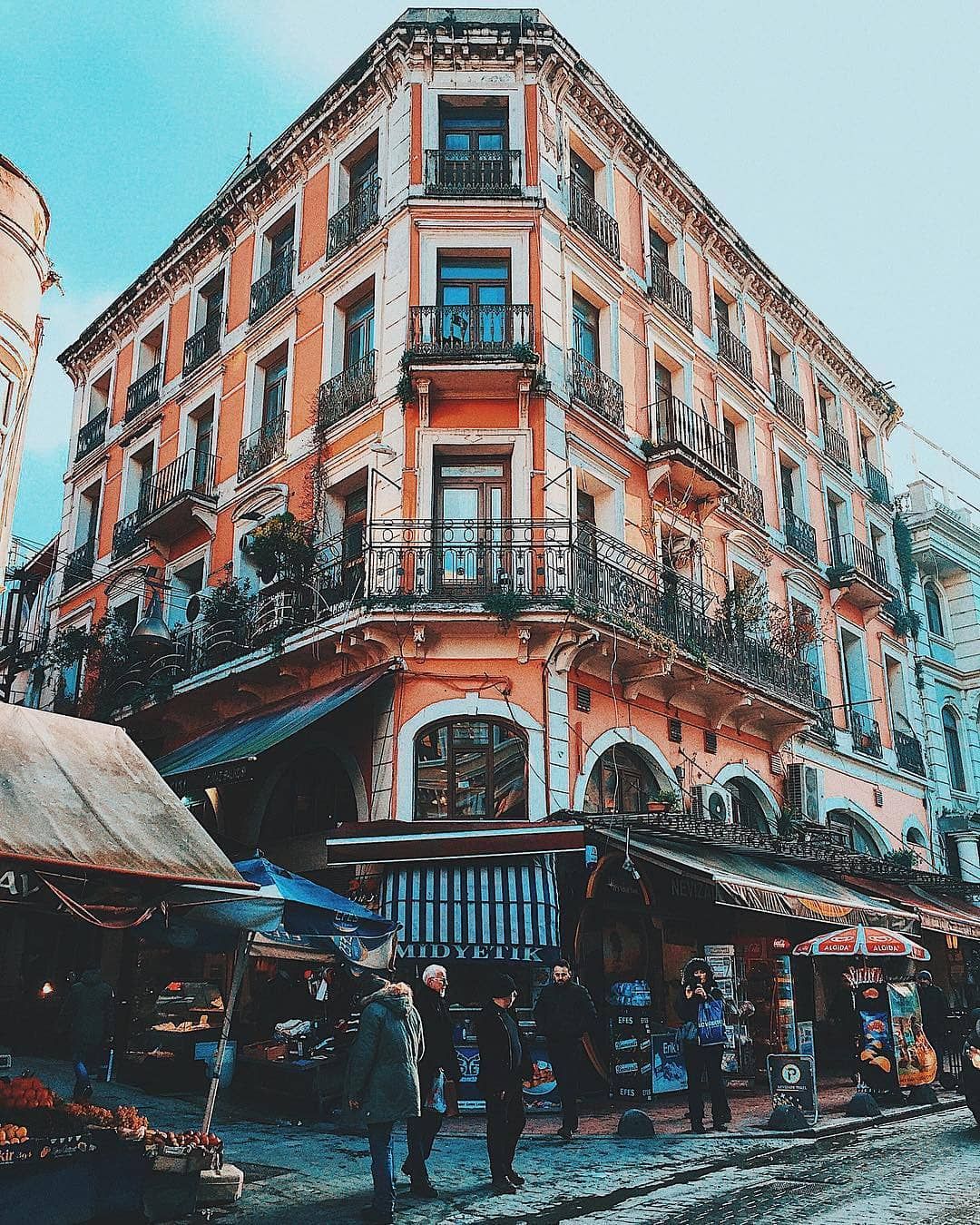 The Beyoglu area includes many smaller areas, such as the traditional areas of Karakoy, Tophane and the famous Istiklal Street, the busiest street in Turkey. Known as the new part of town, it is the center of nightlife and shopping. Karakoy, which features the famous Galata Tower, has acquired an ancient reputation as a tourist destination and a modern art museum. Istiklal Avenue is home to many old shops, boutiques and restaurants that represent the hedonistic face of Istanbul.
Pera, which means "across" in Greek, is called the quarter of Istanbul. Today, it is part of Beyoğlu and is home to many cultural institutions, including the Pera Museum. Cihangir, a bohemian and artistic neighborhood near Taksim Square, is famous for its unique cafes, art galleries and laid-back atmosphere that attracts tourists and tourists.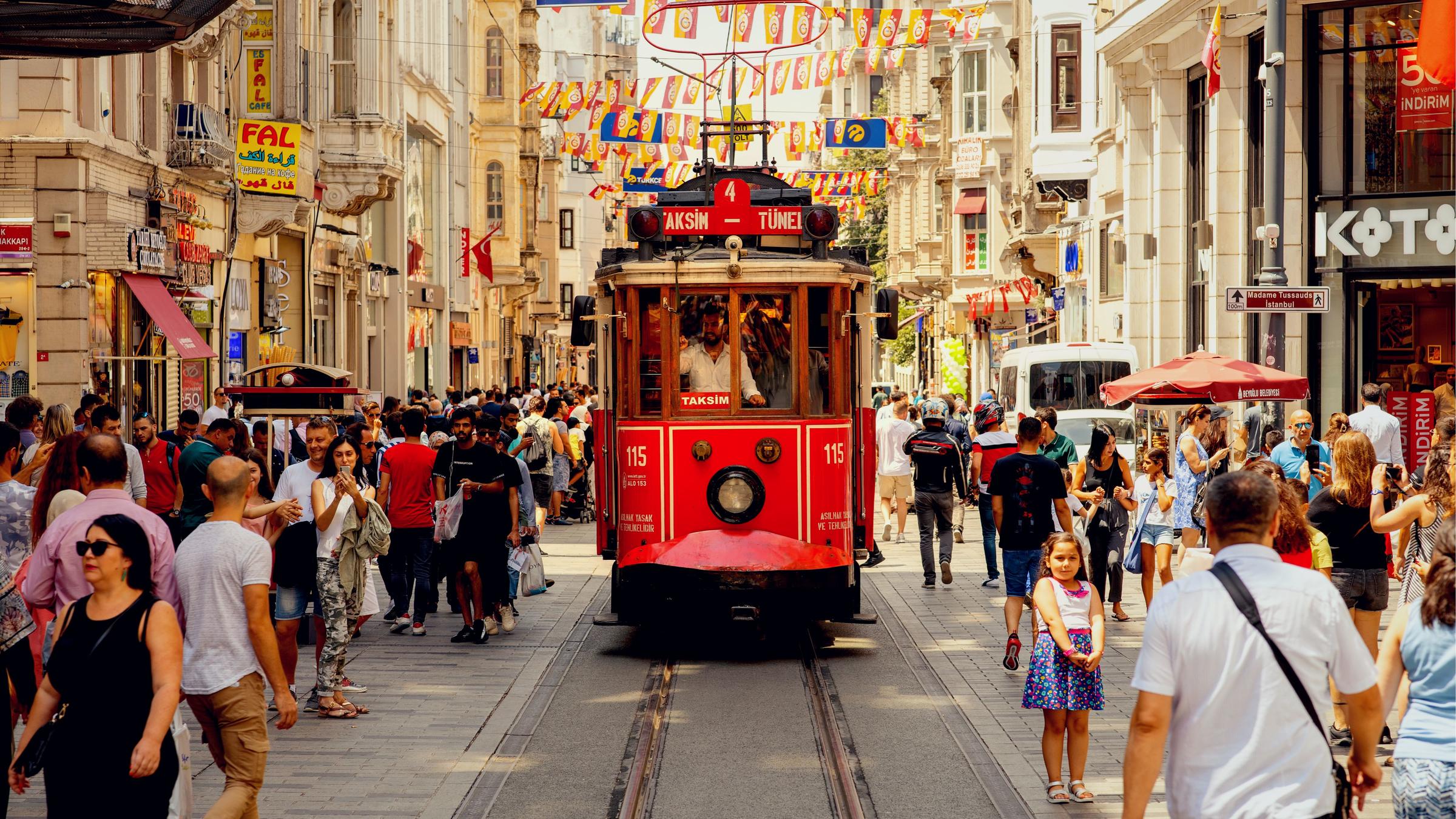 Taksim Square, in Beyoglu, is the heart of the new city center and has played an important role in the history of Istanbul. The name "Taksim" comes from a Turkish word that means "divide" or "separation", as this square served as the main water distributor during the Ottoman Empire.
Taksim Square, the transportation hub at the end of the historic Istiklal Street, is also the center for various public transportation options, including buses, trams, and the famous Taksim Train Station. The bar has been the site of many political demonstrations, ceremonies and protests throughout Turkey's history. 
The Republic Monument (Cumhuriyet Anıtı) is important. The monument built in 1928 commemorates the founding of the Turkish Republic in 1923. It has a central column with bronze statues depicting Mustafa Kemal Atatürk, the founder of modern Turkey, and his comrades during the Turkish War of Independence.
Many famous monuments surround Taksim Square, including Taksim Gezi Historical Park, Atatürk Cultural Center (Atatürk Kültür Merkezi), Pera Museum and Istiklal Avenue. In the evening, Taksim Square and its surroundings have an amazing nightlife. People gather in bars, clubs and restaurants, making it the biggest night scene in Istanbul.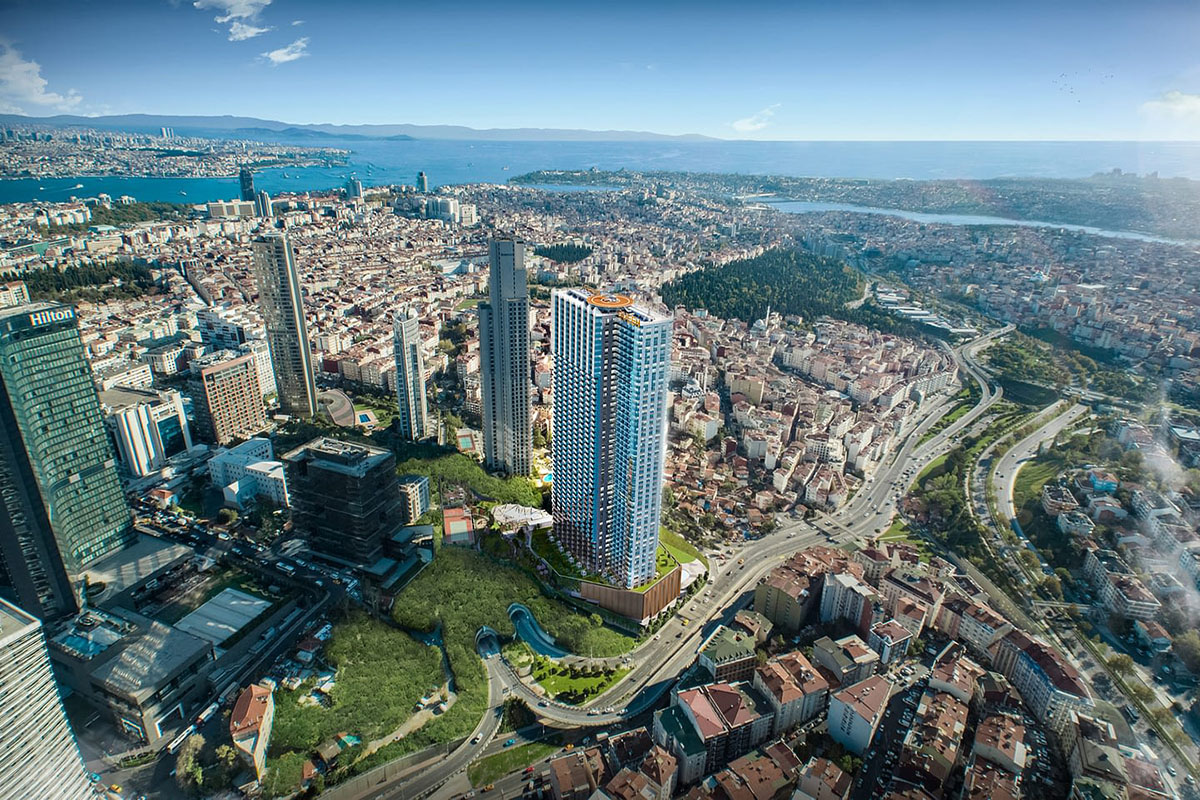 Şişli is an urban and commercial city, surrounded by many other districts. Home to many industrial companies, multinational companies and business centers, the Sisli area is home to many high-end companies and shopping malls. But the city is a shopping paradise, with many great shopping streets and supermarkets. The most popular shopping street is Nişantaşı, with its luxury stores, international brands and high-end boutiques. Istanbul Cevahir Shopping Center, one of the largest malls in Europe, is also located in Şişli.
Şişli offers a variety of cultural attractions, including theaters, museums, and historical sites. Harbiye Cemil Topuzlu Open Air Theater hosts concerts and shows during the summer months. The Istanbul Museum of Harbiye is another popular attraction.
Although Şişli is located in the urban area, there are green spaces to enjoy nature. Maçka Park is a popular place for recreation and leisure activities. Şişli is a diverse area with people of different backgrounds, cultures and cities. It has a cosmopolitan atmosphere and welcomes expats and tourists.
Owning this Furnished Apartment For Sale means becoming a part of Istanbul's rich tapestry. You'll have the chance to explore the city's history, culture, and contemporary allure from the comfort of your new home. The city's finest offerings are within reach, waiting for you to discover and enjoy. Don't miss this golden opportunity to own a furnished apartment that combines style, comfort, and a prime location in Istanbul.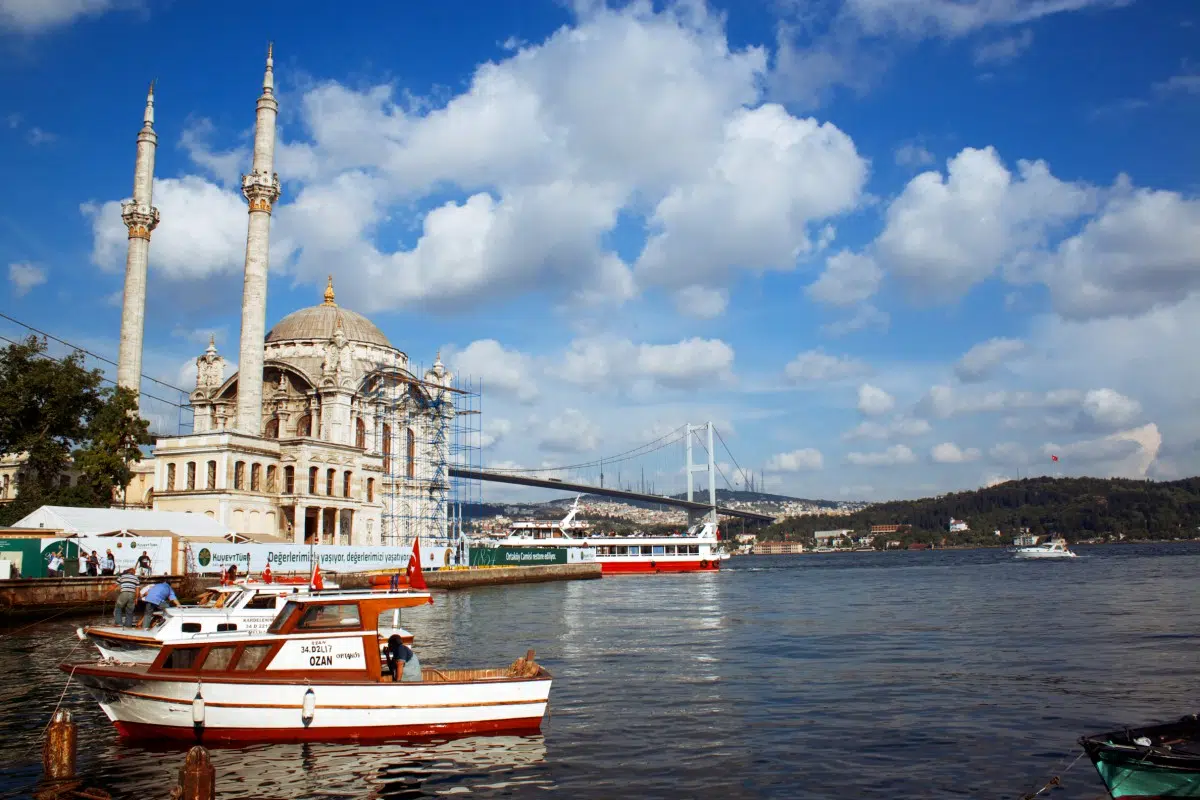 Beşiktaş, renowned for its vibrant atmosphere, hosts a widely celebrated Turkish football club and the historic Dolmabahçe Palace, which served as the final residence for Ottoman sultans. The community of Beşiktaş is a diverse blend of students, professionals, expatriates, and long-term residents, seamlessly merging various traditions and lifestyles. 
Comprising numerous charming districts, Ortaköy stands out as a local favorite, offering a mix of cultural experiences. Noteworthy for its street food, the jacket potato is a popular choice among locals and visitors alike. Another enchanting neighborhood is Arnavutköy, characterized by its narrow streets, well-preserved Ottoman-era wooden houses, and a picturesque array of seafood restaurants along the Bosphorus.
In the heart of the action lies the Levent neighborhood, a bustling hub and major business district. Tailored for young professionals, the area boasts modern apartments equipped with cutting-edge technology and top-notch amenities. Dominating the skyline is the renowned Sapphire Tower, standing as Turkey's tallest skyscraper. Nevertheless, Levent remains in a constant competition with the Maslak district, each vying to unveil remarkable skyscraper projects that showcase the pinnacle of contemporary architecture.
In Beşiktaş, you'll discover cultural gems like the historic Ihlamur Palace (Ihlamur Kasrı), a splendid palace encircled by picturesque gardens. Additionally, the Akaretler Row Houses, meticulously restored, have been transformed into a hub of upscale boutiques, cafes, and restaurants. This vibrant district boasts superb transportation links, with buses, ferries, and the convenient Kabataş funicular providing easy access to various parts of Istanbul.
Nestled in the heart of Istanbul, Maslak stands as another bustling business district, a fact that might surprise you considering its proximity to the expansive 5,000-hectare Belgrade Forest. Despite being in the city center, Maslak offers a unique sense of wilderness and communion with nature, making it a distinctive feature of the area. While the district predominantly caters to apartment living due to its business-oriented nature, architects have infused contemporary designs into each skyscraper, blending aesthetics with functionality. Notably, the allure of seaside living is just a quick 30-minute drive away, positioning Maslak as a well-rounded destination for city life.
Maslak stands out with its contemporary and business-centric atmosphere, positioning the district as a pivotal financial and commercial hub within Istanbul. Often referred to as the city's financial district, Maslak is a magnet for national and international companies, banks, financial institutions, and corporate offices. Its skyline is adorned with numerous high-rise office buildings and towers, symbolizing the district's economic prominence.
A distinctive existence is emerging within Maslak, the captivating hub of Istanbul, boasting its residential spaces, offices, commercial venues, and communal zones. Within Maslak Koru, tranquility permeates every square meter of your life, courtesy of nature. Discover serenity amidst the garden's beauty and find joy upon your balcony. Here, your dreams are occasionally guided, and sometimes, an air of prestige is bestowed upon your endeavors.
Numerous shopping malls dot the landscape, among them the Istanbul Sapphire Mall, standing tall as one of Istanbul's loftiest structures, offering a blend of shopping, dining, and entertainment choices. Enhancing its accessibility, Maslak is intricately linked to the broader Istanbul area through an extensive network of roads and highways. The district is seamlessly integrated into the public transportation system, boasting convenient access to bus lines and the Istanbul Metro.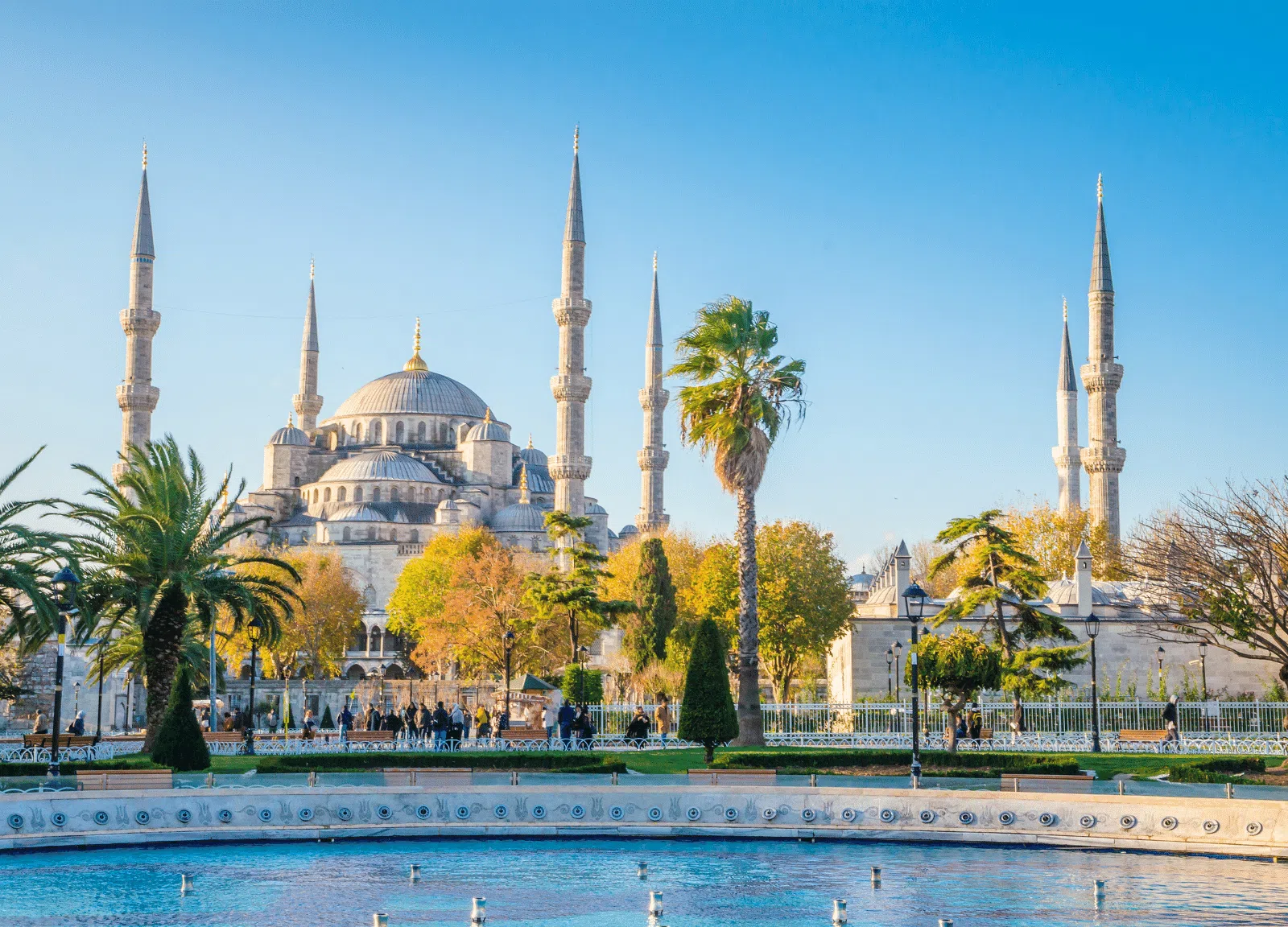 Discover the allure of Istanbul's central districts, where history and modernity seamlessly intertwine. Taksim Square, at the heart of Beyoglu, stands as a vibrant hub, surrounded by bustling streets, cultural landmarks, and a dynamic nightlife. Sultanahmet, the historic peninsula, showcases the city's rich past with iconic sites like the Blue Mosque and Hagia Sophia. Further north, Sisli emerges as a commercial and cultural hotspot, boasting upscale shopping and entertainment options.
For those seeking a blend of authenticity and contemporary living, Kadikoy on the Asian side provides a lively atmosphere with diverse markets and waterfront charm. These central places in Istanbul not only offer convenience and accessibility but also serve as gateways to the city's diverse cultural tapestry, making them ideal locations for residence or investment. Explore the possibilities and make Istanbul's central districts the canvas for your vibrant and dynamic lifestyle.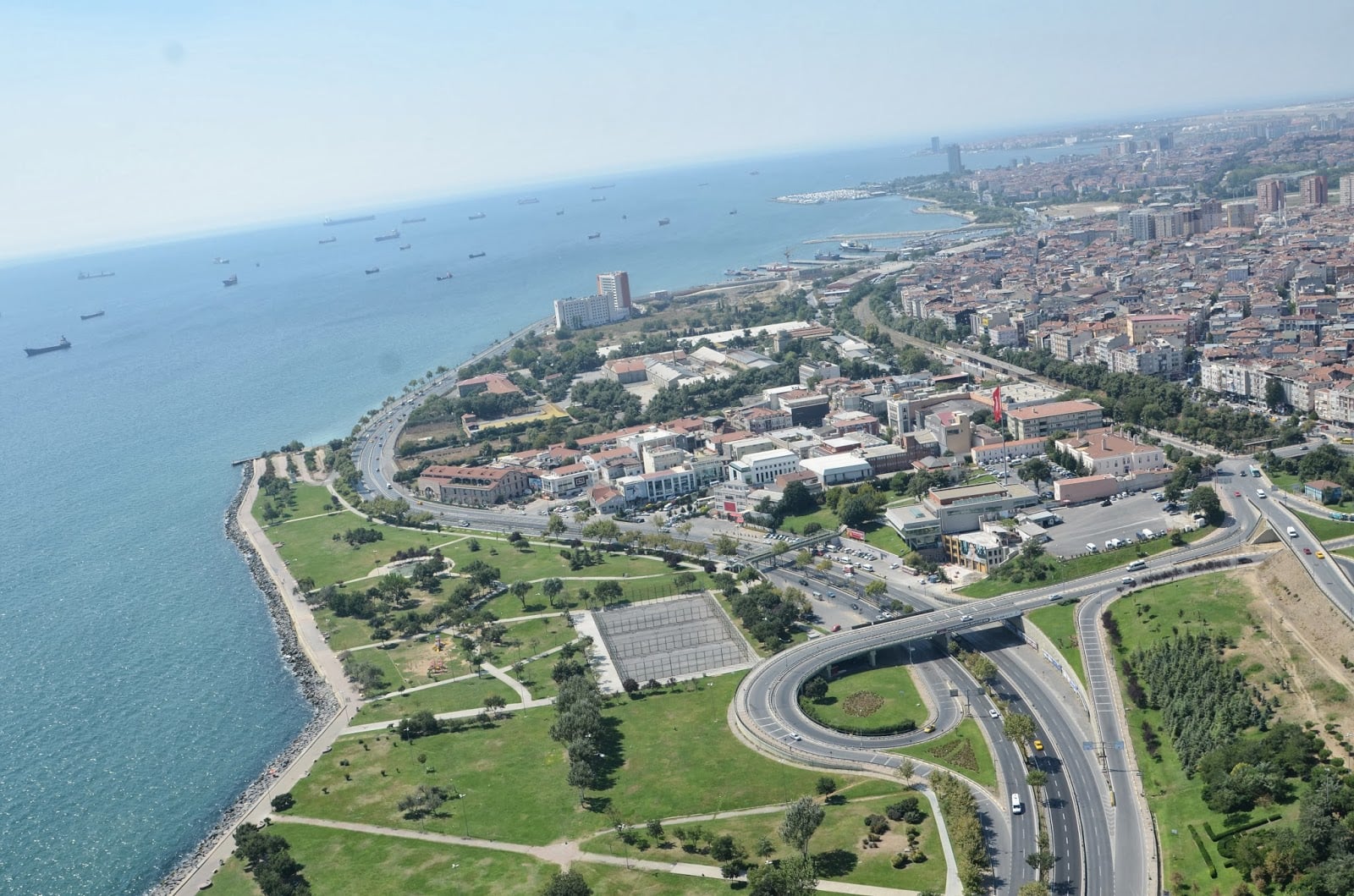 Taksim Square, nestled in Beyoglu, serves as a bustling epicenter, surrounded by lively streets, cultural landmarks, and a thriving nightlife scene. Sultanahmet, the historic peninsula, unfolds ancient tales with iconic sites like the Blue Mosque and Hagia Sophia. Sisli emerges as a commercial and cultural hub, offering upscale shopping and entertainment. 
For a taste of authenticity blended with contemporary flair, Kadikoy on the Asian side beckons with lively markets and waterfront charm. These central areas not only promise accessibility and convenience but also represent prime real estate for both residence and investment. Let the central areas of Istanbul be the gateway to your enriched lifestyle, seamlessly blending tradition and innovation in this mesmerizing city. Explore the opportunities and make Istanbul's central districts the canvas for your vibrant urban experience.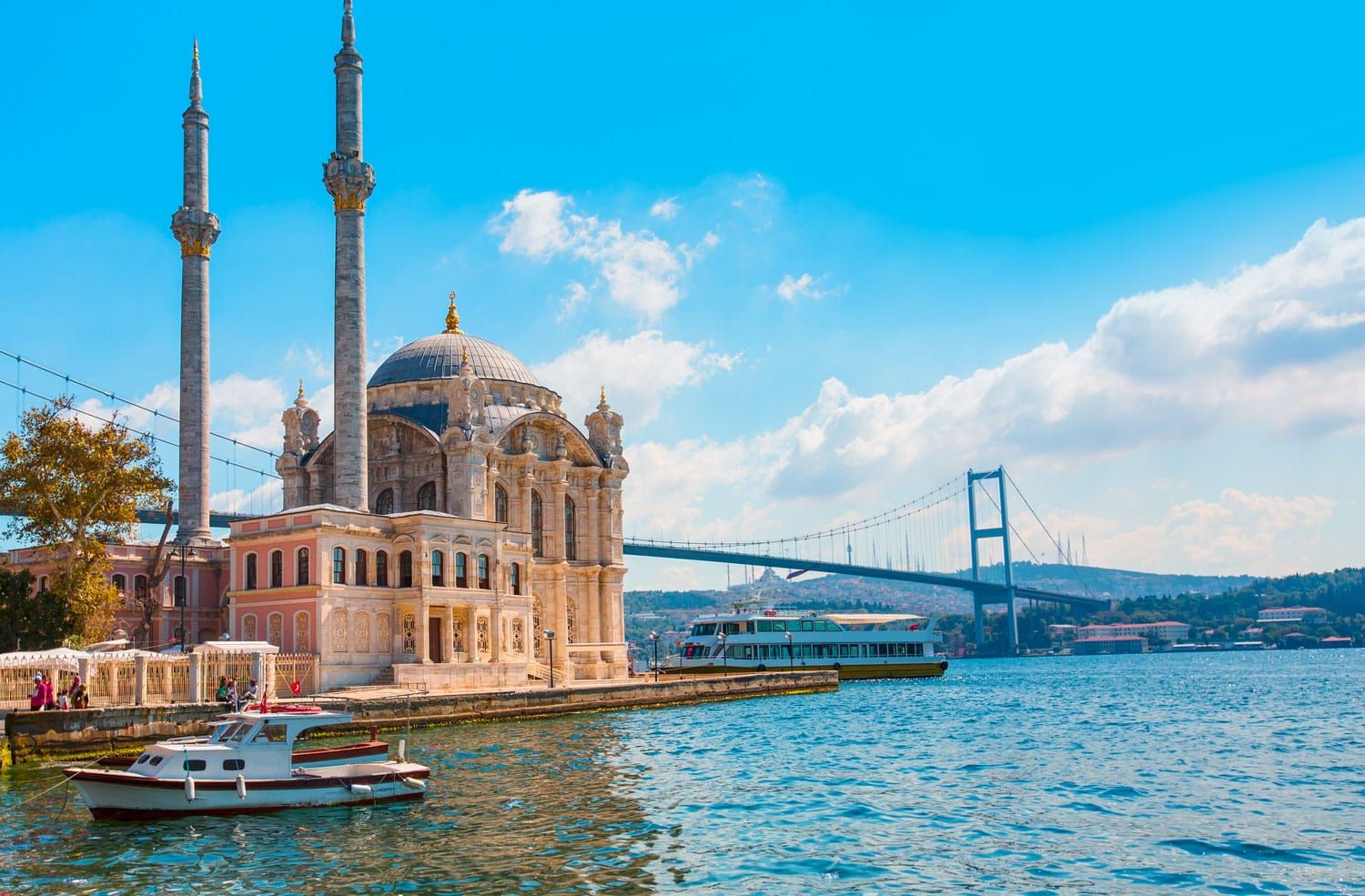 Embark on a journey through Istanbul's finest, where curated neighborhoods redefine urban living. Taksim Square, nestled in Beyoglu, captivates with its vibrant atmosphere, offering cultural richness and a pulsating nightlife. Sultanahmet, the historic heart, showcases architectural marvels like the Blue Mosque and Hagia Sophia, immersing residents in the city's rich past. 
Sisli emerges as a commercial and cultural haven, boasting upscale amenities and entertainment. For a unique blend of authenticity and modern flair, Kadikoy on the Asian side beckons with its diverse markets and scenic waterfront. These areas not only ensure convenience and accessibility but also present prime real estate opportunities. Whether for residence or investment, these best areas in Istanbul promise an enriched lifestyle, seamlessly weaving tradition and innovation. Explore the possibilities and let Istanbul's best areas be the backdrop to your vibrant urban journey.
Istanbul Central Locations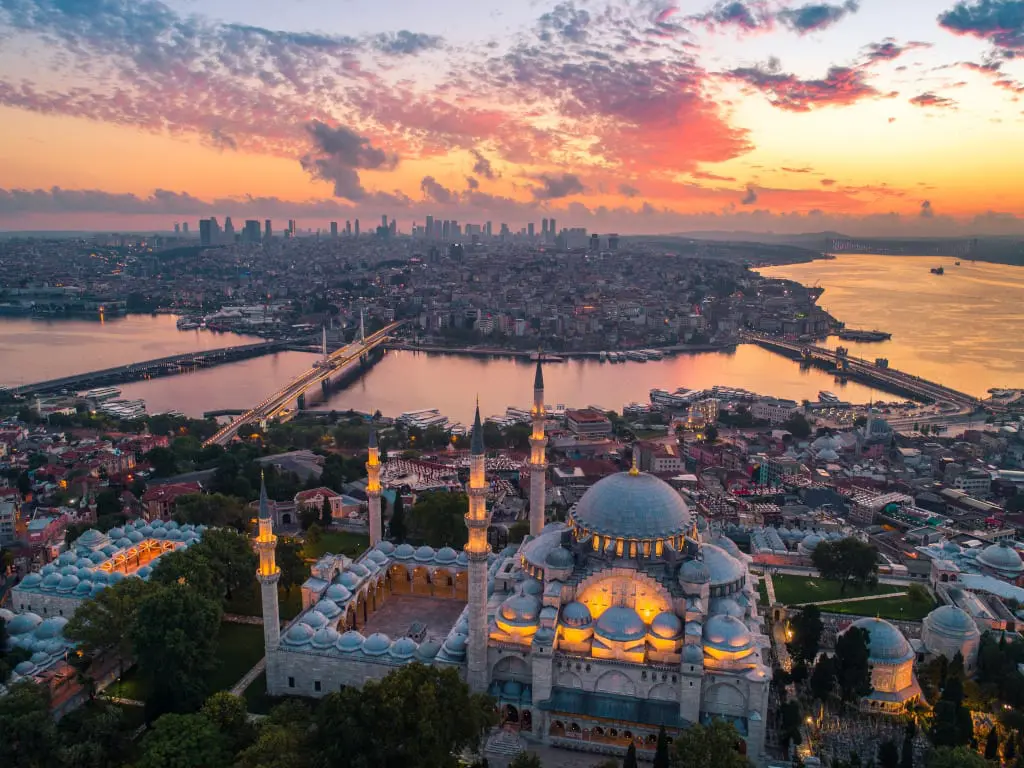 Embark on a virtual tour through Istanbul's central locations, where tradition and modernity converge to shape a unique urban landscape. Taksim Square, nestled in Beyoglu, stands as a bustling junction of culture and nightlife. Sultanahmet, the historic heart, unveils architectural wonders like the Blue Mosque and Hagia Sophia, immersing residents in the city's storied past. Sisli emerges as a vibrant commercial and cultural hub, offering upscale amenities and entertainment. 
On the Asian side, Kadikoy enchants with its authentic markets and scenic waterfront. These central locations not only guarantee accessibility and convenience but also present golden opportunities for real estate ventures. Whether seeking a residence or an investment, these key areas in Istanbul promise a lifestyle that seamlessly blends heritage and innovation. Uncover the potential, as Istanbul's central locations become the canvas for your dynamic urban narrative. Explore the vibrant possibilities and make these central districts the cornerstone of your Istanbul experience.