Furnished Villa For Sale in Istanbul – Full Sea View
Overview
Furnished Villa For Sale in Istanbul
Istanbul is a vibrant city that is known for its stunning architecture, rich history, and breathtaking landscapes. The city has something to offer everyone, whether you are interested in exploring the historical landmarks or indulging in the local cuisine. If you're looking to invest in a property in Istanbul, a Furnished Villa For Sale in Istanbul – Full Sea View might be the perfect choice for you.
Furnished Villa For Sale in Istanbul – Full Sea View in Mimaroba, Buyukcekmece, Istanbul, offers a slice of paradise on the city's western outskirts. This exclusive Mediterranean-inspired villa resort seamlessly blends modern comforts with the allure of Istanbul's vibrant culture. Nestled along the pristine coastline of the Marmara Sea, the villas exude elegance and charm, each boasting a private pool and panoramic views of the sea. Strolling through the lush gardens, guests can soak in the serene ambiance of this coastal haven. Furnished Villa For Sale in Istanbul – Full Sea View in Mimaroba Buyukcekmece Istanbul provides an intimate escape where warm hospitality, stunning views, and modern luxury converge to offer an unforgettable experience for travelers seeking both tranquility and proximity to the city's dynamic energy.
The start of our 16 villas project, built on an area of ​​5.367 m2 on Buyukcekmece Mimaroba coast, where you will be intertwined with the most beautiful shades of green and blue. "Furnished Villa For Sale in Istanbul – Full Sea View" is a project of a private life-oriented approach with its classical and magnificent architecture. In detached villas, from the garden to the parking lot, from the pool to the barbecue area and camellias, everything belongs only to you and your loved ones, including the Turkish bath, gym, sauna and jacuzzi inside your own home. In our living room, you can enjoy pleasant conversations with your family and loved ones by the fireplace.
You will feel the peace and happiness in "Furnished Villa For Sale in Istanbul – Full Sea View", which has magnificent oxygen, sea view and nature.
About The Location Of This Villa
Mimaroba is a neighborhood located on the European side of Istanbul, Turkey. It is situated within the Buyukcekmece district, which is along the coastline of the Sea of Marmara. Mimaroba is known for its beautiful sea views and is a popular area for those looking to enjoy a coastal lifestyle in Istanbul. The location of your villa is crucial. Areas with good infrastructure, proximity to amenities, and potential for future development tend to make better investments.
Certainly, furnished villas typically come equipped with furniture and household items, making them move-in ready. These are ideal for individuals or families who want a hassle-free transition. When searching for a furnished villa for sale in Istanbul, you can use real estate websites or consult with local real estate agents who specialize in such properties. Be sure to specify your preferences and budget to find a furnished villa that suits your needs.
You have already found a good company that will save you from all these efforts. This villa with Best House Turkey is with you directly from the developer.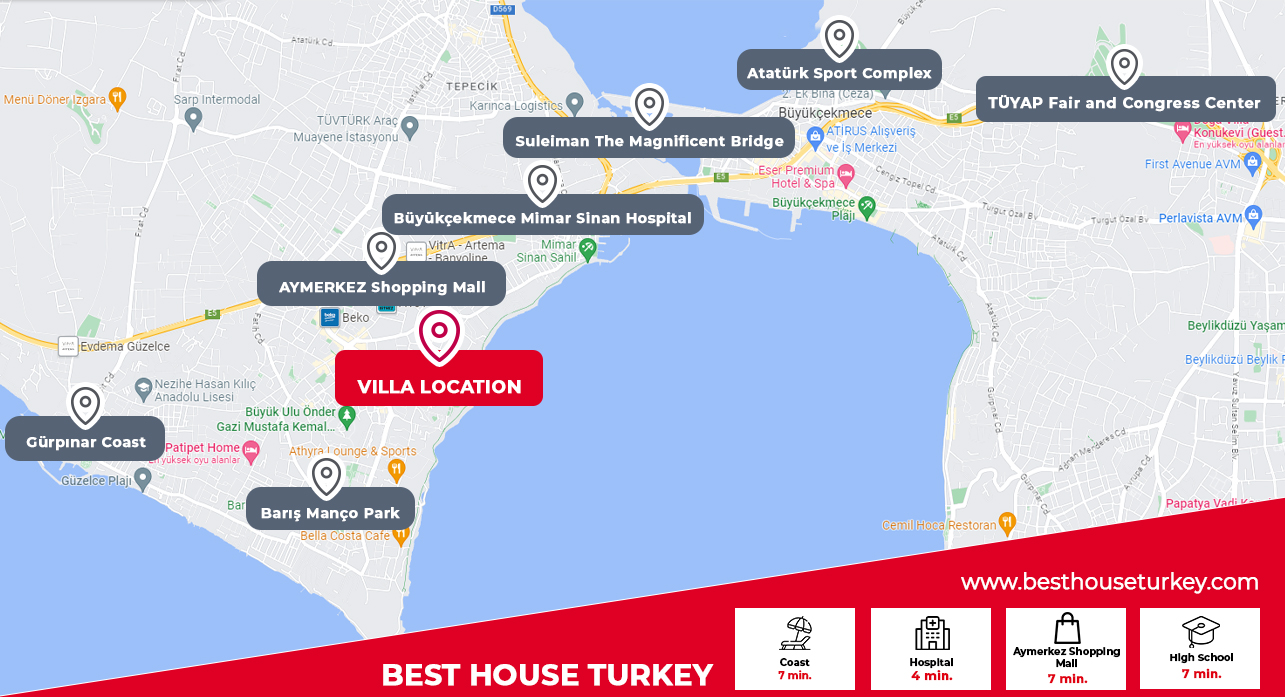 Details
Property ID:

Iz Villas

Lot area (sqft):

Price $3,810 m²

Price ($):

$1,790,000

Listed:

2023

Status: