Sapanca Villa For Sale – Lake View
Overview
Sapanca Villa For Sale - Lake View
Sapanca Villa For Sale – Lake View represents a unique opportunity to embrace the best of lakeside living in Turkey. Nestled in the picturesque landscape of Sapanca, these exquisite villas offer more than just a home; they offer a lifestyle enriched by natural beauty and modern convenience. With each villa boasting a stunning view of Sapanca Lake, you'll wake up to breathtaking vistas every day.
Whether you're drawn to the tranquil waters for recreational activities or simply to bask in the serenity of the surroundings, this property is a dream come true for nature enthusiasts. Additionally, its strategic location, within minutes of major roadways, healthcare facilities, educational institutions, and leisure destinations, ensures that life here is as convenient as it is beautiful. Sapanca Villa For Sale – Lake View is not just a villa; it's an invitation to experience the very best of lakeside living in Turkey.
Sapanca Villa For Sale – Lake View a truly exceptional residential enclave situated on a vast 13,362 square meters of land. This exclusive villa comprises 19 stunning triplex villas, each offering a spacious 287 square meters of living space, perfect for modern family living. Security is paramount with 24/7 surveillance, ensuring a peaceful and worry-free lifestyle. Adding to the allure are private swimming pools for each villa, providing a cool, refreshing retreat just steps from your door. For families, the children's playgrounds and a dedicated social recreation area offer spaces for fun and relaxation.
However, the real showstopper here is the breathtaking panoramic view of Sapanca Lake, which graces every villa, infusing each home with a sense of tranquility and wonder. And for those with a passion for sports, a basketball and tennis court is right at your doorstep. Sapanca Villa For Sale – Lake View promises an unparalleled combination of luxury, comfort, and natural beauty, making it an enticing opportunity for those seeking an exceptional lakeside lifestyle.
Sapanca Lake, situated in the tranquil heart of Turkey's Sakarya province, stands as a serene counterpart to the bustling metropolis of Istanbul. Located just a short drive away from Istanbul, this freshwater lake is a serene oasis where urban dwellers can find solace in nature's beauty. Its crystal-clear waters, surrounded by lush forests and the majestic Koycegiz Mountains, create a stark contrast to Istanbul's urban landscape. For those seeking a respite from the city's vibrant energy, Sapanca Lake offers a peaceful escape for leisurely strolls along its banks, boating, and other water-based activities.
Serving as a testament to Turkey's diverse and captivating natural beauty, this Sapanca Villa For Sale – Lake View is a tranquil haven just a stone's throw away from the vibrant energy of Istanbul.
Sapanca Villa For Sale – Lake View, located just 10 minutes from the bustling Istanbul-Ankara Highway, this enclave provides easy access to the region's major thoroughfare. Nature enthusiasts will delight in the fact that Sapanca Lake is also just a short 10-minute drive away, ensuring a serene escape amid stunning natural beauty. For those looking to connect to other parts of Turkey, the Sapanca Train Station and Bus Terminal are conveniently located within 15 minutes.
The nearby Masukiye Recreation Area and Kartepe Ski Center, just 15 and 35 minutes away, respectively, offer diverse leisure activities for all seasons. Even the Sabiha Gokcen Airport is within reasonable reach, making this Sapanca Villa For Sale – Lake View the perfect blend of natural serenity and urban connectivity.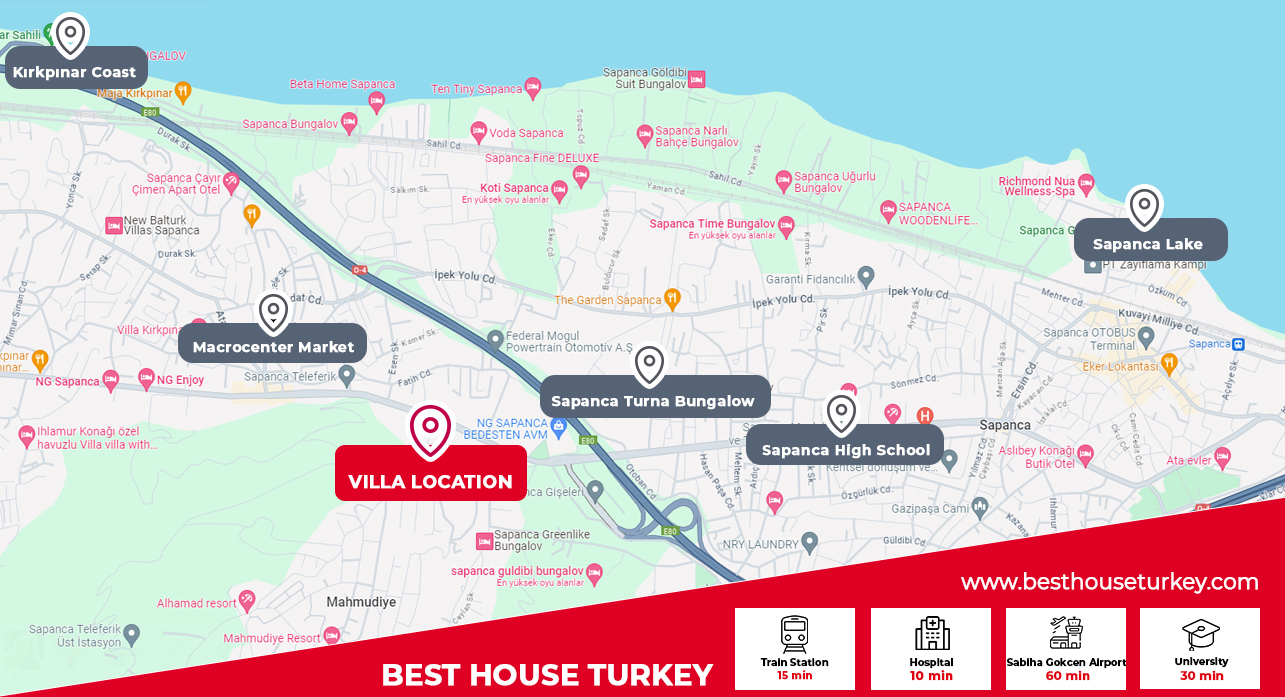 Details
Property ID:

Sapanca Lake

Lot area (sqft):

Price $2,241 m²

Price ($):

$643,000

Listed:

2023

Status: