Forest Villas For Sale In Istanbul Turkey
Overview
Forest Villas For Sale In Istanbul Turkey
Forest Villas For Sale In Istanbul Turkey, nestled in the picturesque district of Sariyer in Istanbul, Turkey, offer a captivating blend of modern luxury and traditional Turkish charm. These exquisite villas are renowned for their stunning architectural design and the serene natural surroundings. Each Forest Villas For Sale In Istanbul Turkey villa boasts spacious living areas, state-of-the-art amenities, and beautifully landscaped gardens that provide a sense of tranquility and exclusivity.
Located along the Forest Villas For Sale In Istanbul Turkey provide residents with breathtaking views of the shimmering waters and lush greenery, creating an idyllic oasis away from the bustling city. These Forest Villas For Sale In Istanbul Turkey villas are not only a testament to luxury living but also a testament to the rich history and culture of Istanbul, making them an excellent choice for those seeking an elevated lifestyle in a historic and scenic setting.
Forest Villas For Sale In Istanbul Turkey redefine the concept of urban living by offering the perfect fusion of city convenience and natural serenity. These extraordinary villas, located in Sariyer's Demircikoy neighborhood in Istanbul, provide an idyllic escape from the hustle and bustle of city life while being just a leisurely stroll away from the city center. With private swimming pools and a sprawling 500-square-meter living area, these villas are the epitome of luxury and leisure.
For those who appreciate culinary delights and family-friendly activities, traditional seafood restaurants and coastal beaches abound in Demircikoy. Forest Villas For Sale In Istanbul Turkey promise a harmonious balance of active living and natural beauty, making them a dream haven for those seeking the best of both worlds.
Forest Villas For Sale In Istanbul Turkey are rising to break all the negativeness of cosmopolitan city life and chaos around you. In Demircikoy, the crowd is going to consist of trees, birds will cause the noise and smooth wind rustle will be your outdoor sound besides offering to reach the city center in less than half an hour.
Blessing privileges of the town are not limited to the lush forests and beach, if you'd like to purchase a small yacht and sail with your beloved ones, you can moor it to the Rumeli Feneri Marina which takes only 15 minutes by passing through the Marmaracık National Park. Besides, thanks to kilometers of long coastline towards Kilyos, the region is lined with lots of private beaches that enable you to spend a qualified beach experience in the morning while highly turning into open-air nightclubs with a nature-circled DJ set up on summer nights.
In addition to the energetic entertainment places, also offering traditional seafood restaurants, family-friendly beaches, and eatery points all around Demircikoy.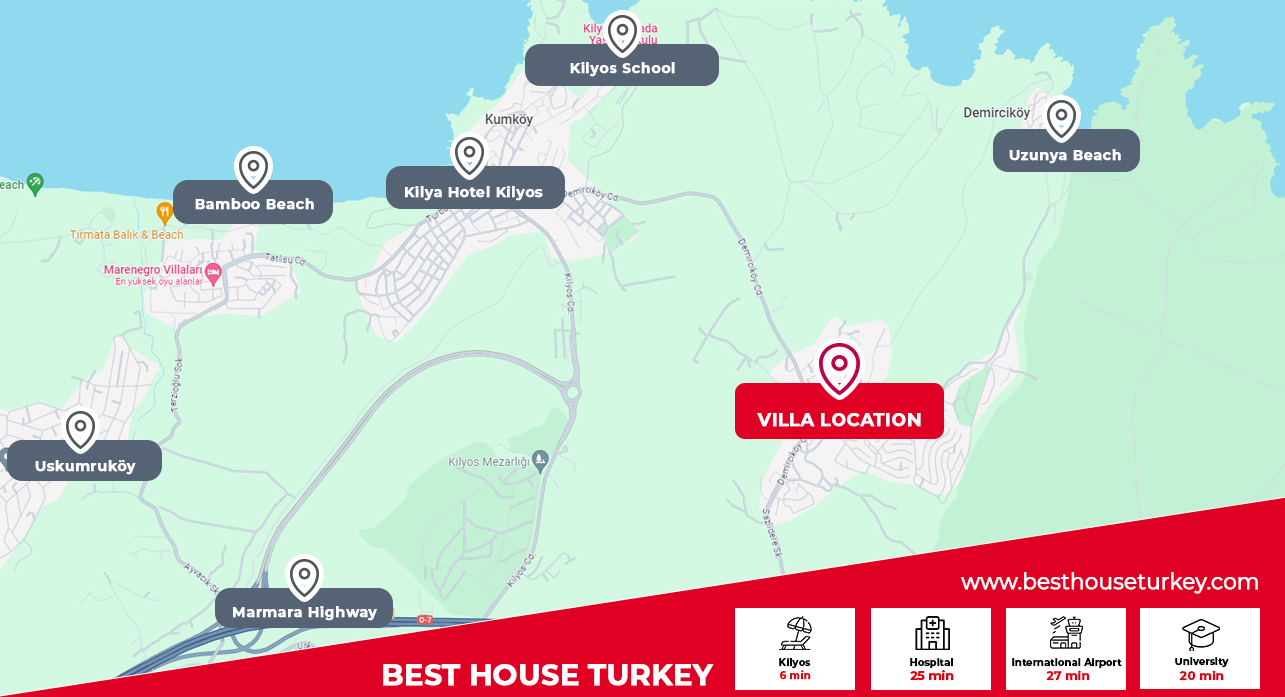 Details
Property ID:

Seven

Lot area (sqft):

Price $4,412 m²

Price ($):

$1,500,000

Listed:

2023

Status: